Creating a colorful room for your kids should be an amazing experience, but most times knowing the ways to go about it may seem challenging and tiring. It is a process that brings out the creativity in you and tests your understanding about a kid's life. If you want your kids to retain sharp mental alertness, it is vital to make the room colorful and relaxing. 
For instance, the blue color is suitable for night's sleep, and it will make a good room décor for your kids. Also, purple has proven to help enhance attention, and as such, it will create a study area for your child. This article will show the easy ways to make a colorful room for your kids that they will remember throughout the years.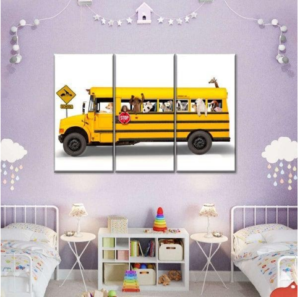 Paint the Wall
Kids love a colorful environment, and a great way to create one for them is to paint the walls of their room. Wall color can change the appearance of any room and add more character to the room. It will also create a background for other essential elements that you will include in the room. Light blue may be a good color for your kids' room as it will provide a good sleeping environment.
Good Lighting
A proper way to create a relaxing atmosphere for your kids is to provide suitable lighting when you make their room. Kids dislike dim light because it discourages their interest in playing in the room. Hence, it is important to provide good lighting to read and play in their room. In addition, you may incorporate a themed and inviting luminary to add some whimsy to the room.
Add Wall Art
You may encourage your kid's creativity by hanging suitable nursery wall arts in their room where they can display their talent. Wall art is an excellent way to add visual interest to a kids' room, and it's beneficial to choose the color scheme. Also, colorful artwork will add more color to the room's background and create a focal point in the room.
Include Wallpaper
Adding wallpaper to kids' rooms is a fantastic way to create a colorful environment. Wallpaper comes in different colors, patterns, and irrespective of the age, it will make an excellent element for the room décor. For example, grey wallpaper may be an inviting pattern to serve as the backdrop for an evolving scheme.
Embrace Nature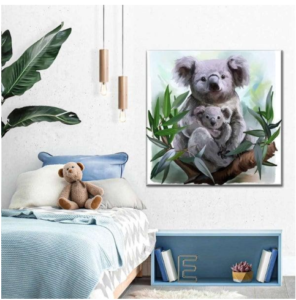 It may be exciting to incorporate the outside into your room design. Plants are a source of oxygen, and they can improve the kids' mood, decrease stress, and aid attention. Adding home plants to your kids' room is another way to create a colorful space for your kids. Nevertheless, ensure that the plants are non-toxic and keep them far from where your kids will see them. You can place them on a high shelf or hanging pots.
Use the Right Bed
Your kids need a good mattress to sleep and relax. Ensure you get a mattress that will support and keep up with your kids' growth. Ensure that the bed complements the entire room theme, and you can introduce other bed necessities like colorful throw pillows. Colorful throw pillows will add more color to the room and provide additional comfort for your kids.
Soft Furnishings
You can add color, pattern, and texture to a kid's room by introducing colorful rugs and curtains to the room. Bed linen of complementary color and pattern will create a fun and inviting room. It will also provide comfortable warmth and texture under little feet.
Final Note
It is crucial to pay attention when decorating your kids' room. While it is an exciting task, it may also prove daunting because as the kids grow, their interests change. In this case, when creating your kids' room, ensure to include the above ways to make a room your kids will remember throughout their lifetime.