Visitors to websites dislike running into connection issues like Google Chrome's ERR_CONNECTION_RESET.
The ERR_CONNECTION_RESET error message indicates that your web browser is unable to establish a connection with the server hosting the target website. It typically denotes a connectivity issue on the client-side.
Fortunately, it's not too difficult to resolve the ERR_CONNECTION_RESET problem. This tutorial will outline the reasons for this problem and provide seven efficient solutions.
What Leads to the Error ERR_CONNECTION_RESET?
The ERR_CONNECTION_RESET error message appears as follows in Google Chrome: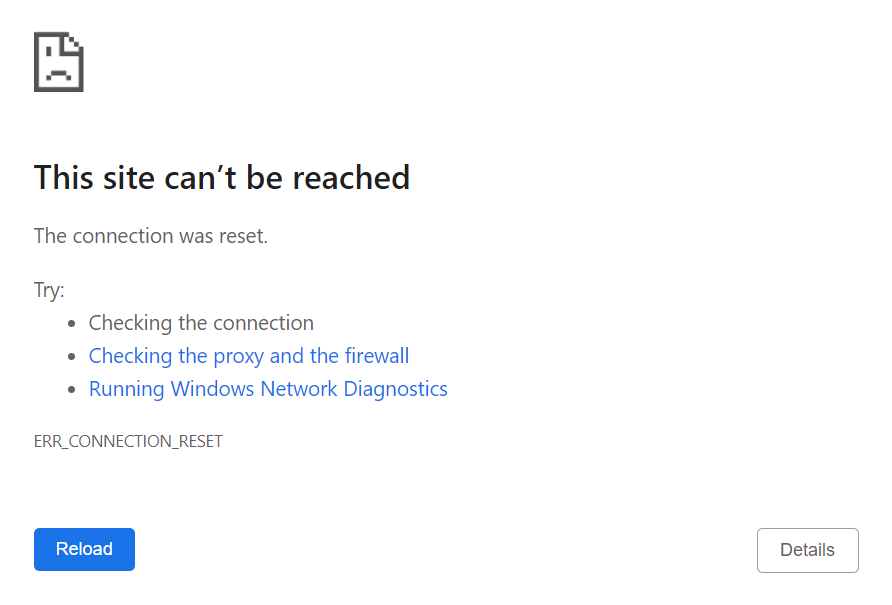 You might see a notice similar to "The connection was reset" or "Hmmm… can't reach this page" if you use another browser like Mozilla Firefox, Microsoft Edge, or Internet Explorer.
In most circumstances, rather than a problem with the target website, the ERR_CONNECTION_RESET error is brought on by a problem with your internet connection (client-side) (server-side).
Possible client-side reasons for this issue include the following:
Device network problems. There could be issues with your router or network device, such as overheating. Your internet connection may become unusable if your router overheats.
VPN disruption. VPNs are used to promote web freedom and privacy. Unfortunately, VPN servers occasionally run into issues that could damage your internet connection.
Conflicts with firewalls or antivirus software. Your computer is shielded from malware and viruses by antivirus and firewall software. They occasionally mistakenly label safe websites as threats, which results in the connection being blocked.
A dated cache in the browser. By accelerating loading times and adding personalization, the browser cache improves the browsing experience. Unfortunately, a stale cache can actually lead to connection problems.
Poor proxy. By hiding their IP addresses, proxies assist internet users in maintaining their anonymity. Proxy servers are not impervious to issues, either; a bad proxy can cause you to lose your internet connection.
An improper or damaged TCP/IP configuration. Computers can access the internet when TCP/IP configurations are correct. You can experience connection problems if they're corrupted or incorrectly configured.
You can easily resolve a client-side issue like ERR_CONNECTION_RESET because you can do it yourself. You don't have to wait for the owner of the website to resolve their server troubles; all you need to do is adjust the settings on your computer or remove any potential obstacles to your internet connection.
The ERR_CONNECTION_RESET Error: 6 Solutions
We'll look at seven ways to resolve the ERR_CONNECTION_RESET problem in this section. Each method will be described in detail step by step.
Solution 1: Verify that the website is operational.
ERR_CONNECTION_RESET is often a client-side error, however, on rare occasions, it can also be brought on by a website. As a result, before determining whether there is a problem with your computer, see if the website is still accessible to other users.
Use a website server checker such as Website planets Is It Down Right Now? tool to determine whether a website is accessible from anywhere in the world.
Simply enter the website's URL into the tool and hit Enter to begin.

You'll be forced to wait until website administrators repair the problem if the server is down. Inform your web hosting company about the server outage if you are the website's owner.
If you discover that the website is still accessible to everyone else, move on to the next step.
Solution 2: Break VPN connection
The use of a VPN has many advantages, including preserving your privacy and enabling you to access geographically restricted information. However, VPNs are not flawless; occasionally, they can interfere with network connections.
It's wise to briefly disconnect from your VPN if you use one before attempting to access the issue website again.
Your VPN client has the ability to disconnect you from a VPN. Here's an illustration of how to accomplish it using a NordVPN account:
Launch the NordVPN software.
Ascertain that you are connected to a server, then choose Disconnect.
Determine the duration of the VPN connection pause.
Try the other approaches if the error notice still appears.
Solution 3: Restart your networking equipment
Rebooting your network device or router will often fix a variety of network connection problems. When you experience internet issues, it is important to utilize this strategy since it is among the quickest and simplest.
Simply disconnect the power line from your router, wait for at least 10 to 30 seconds, and then plug it back in.
If the problem still exists, try opening the page on a different computer that is correctly connected to the same network. If the error notice persists, consider getting in touch with your internet service provider.
Solution 4: Empty Your Browser's Cache
To slow down page loads and provide users with customized web experiences, Google Chrome caches data. There are occasions when the data in the browser cache may be out of date, which can affect connectivity.
Follow these procedures to remove the cache in Google Chrome:
Select More tools from the three dots menu and then click Clear Browsing Data.
Select All time from the Time range drop-down option.
Ensure that all of the browsing data, including cached images and files, cookies, and other site data, is selected.
Click Data Clear.
Turn off your firewall and antivirus software
Solution 5: Disable Antivirus and Firewall
A firewall and antivirus program is necessary to protect your computer. However, some antivirus and firewall programs may mistakenly block completely secure websites.
Whether you are certain that the website you are attempting to access is secure, you might choose to briefly turn off your firewall and antivirus software to see if the connection reset problem is resolved.
Depending on the software you use, special instructions will be needed to disable firewall and antivirus software. If you're unsure about how to perform something, consult the documentation.
Here is how Windows users can turn off the firewall and antivirus software that is already installed:
Launch Settings and select Privacy & security.
Select Threat & Virus protection.
Click Manage settings under Virus & threat protection options.
Disable real-time defense.
Click Network Protection & Firewall.
Switch off Microsoft Defender Firewall by opening each network profile, including the domain network, private network, and public network.
Remember to restart your antivirus and firewall software after attempting this procedure. Your computer will be susceptible to viruses and malware if you keep it off for an extended period of time.
Solution 6: Block access to proxy servers
Proxy servers safeguard your online privacy by hiding your real IP address. Unfortunately, a proxy can also have problems like a dead server or being overloaded.
If you use a proxy, you might want to consider momentarily turning off your connection. To do it through Windows' internet settings, follow these steps:
Select Internet Options under Network and Internet in the Control Panel.
Secondly, select the Connections tab.
Select the LAN settings menu item.
Uncheck For your LAN, use a proxy server.
Check automatic detection of settings
Press OK.
Here's how to modify the macOS device's proxy settings:
Select System Preferences -> Network from the menu.
Choose your current internet connection.
Select Proxies from the Advanced options menu.
Uncheck every protocol under Select a protocol to configure, then click OK.
Conclusion
Your browser was unable to connect to the website, as indicated by the ERR CONNECTION RESET error message. Simply said, because the server is unable to transfer data to your browser, the website hasn't loaded.
This tutorial has covered seven methods for resolving the ERR CONNECTION RESET error:
Verify that the website is operational. Even though it's uncommon, this error could occur by a server problem. To see if the website is down for everyone else, use a website checker tool.
Cut the VPN off. Sometimes a VPN can obstruct network connectivity. Disable it momentarily using your VPN client.
Restart the networking equipment. Many internet problems can be solved by restarting your router. Your router's power cord should be unplugged, then replugged ten to thirty seconds later.
Delete your browser's cache. Connectivity problems may be brought on by an outdated browser cache. Try using Chrome's options to erase the cache and other browser data.
Switch off the firewall and antivirus. Some firewall and antivirus programs may mistakenly label safe websites as harmful. This problem can be resolved by momentarily turning off your firewall and antivirus software.
Block access to proxy servers. Proxies can also be problematic. 7. Reset TCP/IP settings. If you use a proxy, try disabling it and see if the error still occurs. You won't be able to connect to the internet if your TCP/IP settings are inaccurate or faulty. Your internet settings will reset to their defaults once you reset TCP/IP, which might resolve the error.
We wish you success and trust that one of the solutions has assisted you in resolving the ERR_CONNECTION_RESET error. Any questions or advice are welcome in the comments section.